Post by LittleAbyss on Nov 7, 2014 4:36:16 GMT -7
Player handle:
LittleAbyss
Name:
Ellora Reese
Faceclaim:
Nicole Kidman
voices have masks as well, described in appearances further down the sheet)
Date of birth:
30th August 1845
Place of birth:
Texas
Age of embrace:
24 (no specific date available, time was very illusive when she got Embraced)
Clan:
Malkavian
Sect:
Anarchs
Species:
Vampire
Disciplines:
Auspex, Dominate, Obfuscate - Fortitude (extra one as Ancilla) (After all the torture she had to go through she created a tough mentality)
Derangements:
Schizophrenic: Ellora often gets illusions possible led by her voices. The many voices make her do things she isn't aware of and there are times she can't remember entire moments of a night. The world isn't perceived how it always should be and to help cope with that Mary and Jane became her other personalities. So Multiple Personality Disorder is a branch of the schizophrenia. They came to her one nigh, how and why is unsure but they suddenly were present in her mind.
Sadist/Masochist: Due to torture in her past by her Sire when she was still alive she learned how to love and embrace pain. Not only inflicting it but also receiving it. She does have to admit that she enjoys it more when receiving it but it turns her on when she can hurt someone else and see the fear and the pain in their eyes right before she feeds of them.
Merits:
Enchanting voice: There is something about your voice that others cannot ignore. When you command, they are cowed. When you seduce, they swoon. Whether thunderous, gentle, persuading or simply talking, your voice commands attention. When Ellora talks she seems to want to pull you in her story. When she speaks she likes, maybe even needs attention.
Time Sense: Maybe this comes from her time during battle when you got learned tricks to know the time. Or perhaps this grew out of the fact that her friends in her head take over and by the time she gets control back she needs to know what time it is in order to find a safe place for the day. However it developed she has an accurate sense of time.
Flaws:
Dark Secret: Ellora has diablerised her Sire and told eveyone he was killed and they left her as a beaten pile of trash. Her Sire's close friends are still searching for the killer. Most of her Sire's friends are Sabbat, especially Tzimisce.
Masochist/Sadist: Her Sire searched for her willpower through torture when she was still human before he Embraced her. Pain became a friend both in receiving it as in giving it.
Haven:
A house in Phoenix, Scottsdale, Pinnacle Peak. It is hidden away in the land. It has earth like colours and a lot of green around it.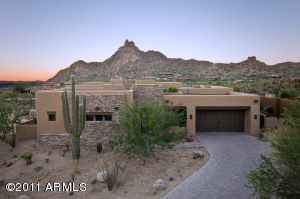 Inside there's nothing much out of the ordinary. The rooms are simple without much decorations. It has standard wooden furniture. Ellora doesn't use it much either nor does she see it as a home. It's just a safe place for her to sleep through the day.
Appearance:
Our Southern belle stands 5'5" and has a smooth, slight pale skin. Not one scar can be found on her entire body, not one mark of torture or other wounds. Her hair is a bunch of brownish ginger; almost red curls when it's uncombed, when she has the time to comb it thoroughly her hair are wavy locks. Even when it's uncombed it does look like it's combed, it seems like it's always perfect. Ellora hardly puts her hair in a tail unless it would interfere with whatever she is doing at that moment. Her lower lip is a bit fuller than her upper and has a nice reddish colour; like she has just been feeding and there still is some blood on her lips that she has tried to wipe away but the slight colour of it is still staining her lips.
Deep pools of darkness represent her eyes. They have an endless dark, mysterious and stern look that doesn't change very often. Sometimes the only other thing that can be seen in her eyes is anger, pure anger and when she frenzies you can see her eyes go blank like there's not one thought or spirit in her anymore.
Her body is slender but feminine, very feminine. One can not deny that she has the looks and packages of a real woman.
Normally Ellora always wears long dresses like in her younger years but being this old meant a lot of changes also in clothing. The styles became weirder and weirder each decennium. Now she can be seen in jeans, tank tops, sweaters with a hood or dresses. Boots are her favourite pair of shoes because they are nice to walk with and are a bit wide. She never wears make-up. On her wrists she has some bracelets and around her neck there's only one silver necklace with a pendant in the shape of a four-leaved clover she once got from one of her victims. There are no rings on her hand. Sometimes she just feels like being different and then she wears a long skirt in flamboyant colours and a short tank top. Whenever she feels in a strange mood you'll notice it at the way she dresses because then her clothes won't match and will be different.
As weapons she carries with her two Desert Eagles. Times changed and so the weapons changed too but that was the only thing that sort of changed in a positive way, not all weapons but some of them. She carries all her personal belongings in a little black leather backpack which she doesn't always have with her. In it is her phone (which she doesn't use so often because it seems very complicated to her. It takes her ages to text), a little black notebook and pencil, an agenda and some tools to pick a lock open.
Her Personality is something very complicated sometimes. In the beginning Ellora was just a southern daughter that loved to play around with the boys. Now she has changed through the years and because of her training that her sire has given her. Most of the time she is still a southern daughter with a strange behaviour. She has multiple personalities that she sees as friends who are just there. There are many friends but some come and go. Those who always stay with her are Mary and Jane.
Personality Ellora: This is the one she is most of the time. This is the one who tries to keep her others in peace and tries to find a golden way for both of them. She is sort of the girl that tries to be as normal as possible even though she sometime has illusions about things that she would love to see come true for real. She can be very deceiving. Sometimes when her others are around she first talks to them and speaks then to the outside. Her talks with her others aren't always in silence, Ellora doesn't always realise that outsiders are still around and can hear her but outsiders can only hear her talk unless the others decide to be present outside her head. There is an obsession with the moon which isn't that odd for someone of her clan.
Personality
Mary
(Faceclaim Rachel Mcadams): She is the "good" vampire. She likes the humans, doesn't want to hurt them or see them suffer; want to use them without they notice it just to survive and to keep on living in the shadows. But she has her moments were she gets swallowed by the vibes Jane gives off.
Personality
Jane
(Faceclaim Winona Ryder): She is considered as the "bad" one. She hates mortals, wants to torture them, drink from them while they are in agony, kill them and suppress them. She thinks she's the superior one of them and of Mary. Sometimes she even feels superior towards Ellora and is a very fickle personality. She is very sarcastic and does not care for much.
The personalities have chosen their names themselves. Ellora doesn't see them as a part of her but just as friends in her mind. They are like spirits that live in her head. There are more friends in her head but those two are the ones who she talks to most of the time. You could consider them as the angel and demon on her shoulders.
When they are talking at the same time it will be in red. When they are talking in her head it will be regular.
Outside her head it will be in italic.
. So the voice that is talking at that moment out loud will be italic (colour depends on the personality of that moment). She can also start debating with her own reflection because the personalities (which aren't visible for anyone else but the Malkavian) can be seen in reflections of any surface or mirror by the current personality at that time.
History:
Ellora Reese sits in her chair, drinking a nice glass of blood while reading a book. The blood is from one of her personal cattle and the book seems to be the diary of one of her victims. It seems quite funny because she softly laughs. Her mind wanders off to her personal cattle, stupid humans she had captured to play with. Most of them weren't worth living, at least not in Ellora's eyes. They are thieves, rapists, killers … Instead of sending them to jail she captured them to give them a better punishment. It were men and women that deserved this little hell, it was a preparation for what they would get in a real hell if there was one. Some of them were people who accidentally had crossed her path.
Suddenly she's aware of someone looking at her. She grins mysteriously and looks up while she starts speaking in a soft, sweet voice…
"Well hello there, so you are interested in my life story? … Good, sit down. You want something to drink? Water, juice... something else?"
She points at a chair nearby and waits until her guest is seated to get up and walk away. She leaves the person alone for some time. When she returns after a while, she has a tray in her hands with all sorts of drinks her guest can choose from and a glass.
"Take whatever you like and make yourself comfortable…"
With a quick move she sits down in her own chair and she stares in front of her. Her mind shows her a flash of images, shattered stories that make some sort of useless dream. After five, maybe ten minutes she seems to return from her dream and smiles softly.
"So my story … my story begins a long time ago. I was born on 30 August 1845 in Texas as Ellora Reese.
I grew up in a southern family. We didn't have a big house nor was it a small one. Our land was full of cotton and we had some slaves. We couldn't afford much but it was more than enough to be happy with. I had a nice childhood. From the age of six I had to start working or at least learn about how the land and how everything worked. Than at the age of seven I started helping my family and the slaves. Some of the elder slaves knew many songs that helped us making the work easier. While we were working they learned us, the younger slaves and me, their songs. Sometimes my brother, sisters and I were sent to school but that didn't always happen. Rarely someone came to tutor us but things were getting harder and so we stayed more at home to work. Even if there was some money for learning it were mostly the boys who were considered worthy for such things.
There was only one of our family, except my parents, who could read and write a bit. That was my sister, she was 15 years old. She was the eldest, than my brother who was ten, than my sister who was nine and then me. I was the youngest.
My brother was the only one I really liked. I wasn't the girlish girl like my sisters. They were afraid of breaking a nail or never finding that perfect man to marry and I was afraid of becoming like one of them. I always played with the boys, running around, yelling, and getting dirty … doing typical boy stuff. Not only with my brother but also with the slave boys. My parents hated the way I behaved most of the time and I got punished a lot. But I didn't care, because I liked to be like that. The only thing that was girlish at me was my hair. I had, and still have as you can see, a lot of curly hair. I let it grow a bit longer than my shoulders, just like how it is now.
I knew some slaves better than my own family and they weren't just our slaves, our work people. No they were also a part of our family, without them we wouldn't have been able to survive because there was always so much work to do on the land.
We had this lovely housekeeper. Whenever I got sick she always took care of me like I was one of her own children. You can think: 'well that was her job.' And maybe that's true for a part. Mammy was a special woman. She loved us all and she cared for us all in the same way. When a black boy got sick she would take care of him too just like she did with me or one of my sisters or brother. Most of the time I always took care for the food then. I told her all my secrets and so she knew about me being in love with a slave boy. That was the nightmare of every parent in those days. No one could knew about it, not even the boy himself but that didn't work. One day we were both working in the shed he told me what he felt. He gave me my first kiss. It took him a lot of courage to tell a white girl that you love her but apparently he had told his secret to Mammy and she encouraged him to tell me. I must say I was quite angry in the beginning at her but I couldn't stay mad because from that day on we tried to be together all the time. We had to hide our love except for Mammy.
That's how I spend my life until I was around 14-15. Politics were getting difficult in those days and people feared for the future. Times were getting harder and eventually a war started. It all started on 12 April 1861 when Fort Sumter was attacked by the South. The southern states – North- & South-Carolina, Mississippi, Arkansas, Tennessee, Missouri, Kentucky, Florida, Alabama, Georgia, Louisiana, Texas, Virginia – wanted to secede from the Union because the culture was so different and the Union wanted to control the Confederacy too much. When the North refused to give Fort Sumter back to the South, the South attacked it. The war was all about the South who fought for recognition as an independent nation. The South wanted to break away from the Union. The slaves were an issue too but that started in 1862 when the Union used, or actually forced and bribed black people into fighting. The South was against black people in the war at first because it wasn't fair to let them fight a war that wasn't their war. But within the South black people started their own regiment to fight at the side of the Southern army."
A soft laugh fills the room. Her laugh is cold and warm at the same time. It's like she consumes you just by laughing. Some people like it, others hate, some are intrigued by it and others get shivers all over their body. There's a silence for a few minutes…
"I'm sorry about that long list of historic facts. You wanted to hear my story … Hmm let me think, where was I again? … Aaah yes, the beginning of the war and almost the end of my normal human life. I was almost 16 when the war started. Families started to move to safer areas, especially women and children with the aid of their slaves. Men stayed at home and joined the Confederate forces. That was what my parents had decided to do. My father and brother would stay at home and join the army and my mother, sisters and I were going somewhere safe together with the slaves. I didn't want that and the night before the big travel I ran away. I wrote a letter to my parents and to Mammy. Explaining them why I ran away in the one to Mammy was some more information, things I wanted her to say to my loved one.
To disguise myself I used little hairpins to put my hair up and so it would stay flat. A hat on top of my head to make sure they couldn't see it and because of the hat a bit of my face was also hidden. I kept my face dirty and hardly said a word so my female face and voice wouldn't get noticed by someone. But at the age of 16 there were other female features that weren't so easily to hide because these …" At this moment she points at her breasts. "… aren't really unnoticeable. After some thinking I found the perfect solution. This was easily to solve by holding them back with bandages. I must say that in the beginning it was a bit painful but I got used to it, I didn't even felt it after some time. That was the first time I really noticed that pain was something you needed to get used of. Pain wasn't bad; it was and still is quite enjoyable."
Ellora smiles, a little wicked grin is playing on her lips when her thoughts wander off. Clearly she's thinking about pain. Old memories fill her mind and she's silent. Minutes pass by and she doesn't give any sign of being aware that's she is still with a visitor.
A clock in the distance ticks away the seconds until she finally blinks with her eyes and takes a sip from her blood drink. Was she really that far away with her thoughts or was she only playing with her guest, making her prey nervous and feel uncomfortable? Maybe she was, just maybe or maybe she wasn't … one could never be sure about what she thinks and how she acts the way she does.
Suddenly she continues without even giving the feeling that there was a long silence.
"Well I joined the Confederate army. Not a person had noticed I was a girl. Luckily I was used of hanging around boys and working on the land and so I had some strength in my female arms. More than a regular girl of my age. I learned a thing or two about fighting and shooting. Most things I've learned during battles and I survived because I was a lucky girl most of the time. I discovered that there were other women fighting in our army but they were all disguised as men and the army leaders had signed them in under other names, male names. Still I didn't dare to expose myself as what I really was. I was young and afraid they would kick me out because I was that young and a girl. Everything went quite well until one day …
During a battle I got shot and they had left me there for dead. The troops moved away and time was precious so there was no time to check those who were down. I got shot in the shoulder and when I fell down on the ground my head hit a rock and I was unconscious. Some Yankee soldiers found me and investigated me. When they noticed I was a girl they decided to have some fun with me. They raped me, violated my body, my southern soul and mind. Those four men tried to hurt me in every way they could think of. But once I got used to the first pain, I felt like I could enjoy the rest. After they were done with me they kicked me aside so I could die a long and lonely dead. I wasn't aware of any time, I just laid there in agony with ripped clothes, almost naked and I felt hate. Hate for those men and hate towards myself because I couldn't understand how it was possible that I enjoyed the pain and violation that had been brought upon me. Why was I so weak?
Seconds, minutes, hours, days … I don't know the amount of time that passed while I laid there. For me it seemed like an eternity. An eternity of darkness and fears. All I could wish for was that I would die quickly. I don't remember much except the darkness, until one moment I opened my eyes because I felt raindrops on my head. The freshness that those drops brought were like heaven but what I saw was like hell. Two eyes were looking at me. One bright blue eye and the other white like a blind dog eye. The nose that belonged to those eyes was touching mine. I started screaming and he started laughing like a maniac. I tried to get up and noticed it was night. I was all alone with only this creepy man around me. Once I got up I looked around for him, he was gone, like he had disappeared. Suddenly he grabbed me from behind, one hand on my mouth so I couldn't scream and the other holding me against him with a strong grip. I gasped when I felt his cold rough hand on my bare stomach and I was too afraid to move or yell. His soft whisper gave me shivers across my body.
"I've been watching you… you are stronger than I thought, my little kitten. I'm going to tutor you, learn what I know and make you immortal IF you pass my tests"
I wondered what he meant but before I knew it he had knocked me down... unconscious again.
I woke up and I thought I was still sleeping. I was in a pitch black room; I couldn't see my own hand in front of my eyes. Well I couldn't see them anyway because chains were around my ankles and wrists. I couldn't get up and I could barely move. I was completely naked; I could feel the cold stone of the floor against my skin. Then a cold maniacal laugh made me shiver. He was watching me. I couldn't see him but he could see me. I didn't know how on earth that was possible because it was so dark in that room. Just as I wanted to scream a voice started talking. The same voice of the same man who had brought me there.
"Don't scream... no one can hear you and you will need your breath for later. I took the liberty of having someone heal your shoulder. Your tests will begin soon."
Then there was silence again. I noticed that my shoulder wasn't hurting anymore but I would have preferred to be still outside on that battlefield. After some time someone entered and blindfolded me. I wasn't sure whether it was him or not. I had to walk for a while. Where I was I didn't knew. I was thrown into water, ice cold water. His voice echoed around me.
"Resistance… show me how much you have. Survive this until I let you out or die."
I screamed to let me go but there was a silence that wasn't disturbed anymore for hours. I took my blindfold off but it was so dark in there to see where I was. My first thought was to escape but I was in some sort of well. I couldn't drown because I could stand and the water reached my chin. I was thirsty and wanted to drink of the water but it tasted dirty so I decided not to drink off it. For hours, I think, I kept on moving my arms and legs to keep my muscles alive. Someone pulled me out suddenly and blindfolded me again. I couldn't speak, fight or do anything to try and escape because of the frozen feeling all over my body. The person who led me dragged me along. He pushed me into a room and I could hear a door get locked. Someone took off my blindfold and I saw a pair of familiar eyes.
"Hello again, I'm pleased to see you alive my little kitten. Take those clothes, get dressed and sit down at the table. We need to talk about your training."
He pointed to some clothes that were on a chair. I quickly got dressed and sat down to listen to him but he was gone when I turned around. Someone else had entered the room and gave me something to eat and drink. The man locked the door again and I heard the voice again but I couldn't see him.
"Eat, you need it. Don't worry it is safe"
He appeared behind me and laid his hand on my shoulder. I doubted first but the hunger and thirst was too much so I eagerly started eating while he spoke.
"Dear Ellora… Yes I know your name. I've been watching you for some time now. You liked to play with the boys, didn't wanted to be like your sisters. Originally I was watching your family for your brother but there was something about you, something different. You were special and I'm going to make you even more special."
He came to sit in front of me. He was much taller than me. His hair was dark brown, almost black. It was very nicely cut to shoulder length. His face was pretty young, around 30-35, I thought, but his eyes showed more age. I wondered what he meant with
more special
but I was too afraid to ask.
"I'm John Stewart despite my looks I'm over 200 years old. I'm a vampire; I'm a living story…"
'That's impossible!!' I exclaimed. The man was crazy I thought but he wasn't crazy, he wasn't making anything up. He bared his fangs and threw me off my seat. Before I knew it I was on the floor and John was on top of me. Just seconds after I realised that I could feel his fangs sink in my flesh. I felt an intense pain and strangely enough I enjoyed it. I softly moaned and I didn't resist at all when the bliss captured every fear and disbelief. John quickly finished once he noticed that and started laughing. He got off me and smiled while helping me up.
"Good you already like that. Wonderful! So now that you believe me I can tell you the rest of my story and my plan ..."
I went back to my chair and he took a seat in front of me again. He was still smiling and I couldn't help but thinking that he looked sort of cute like that. I softly laughed at my own thoughts and looked around the room. It looked like a basement with a table and some chairs, bare walls with some empty shelves, a bed and there were many candles lit. He told me his story about his life, his embrace, his vampiric life and than about the sects, clans, abilities… everything he thought I needed to know. We talked an entire night and he left me alone in that room when the day was coming because he had to sleep in his own room.
He told me to stay in the room until he came back. There was something persuasive in his words that made me stay. Even though I was afraid and that I really wanted to escape, I just didn't. I stayed because he had told me to stay. He didn't even lock the door when he left, so sure was he that I would stay or maybe that I wouldn't find a way out of the place. I slept a few hours and when I was awake I thought about everything he had told me. It all seemed so unreal but I had seen his fangs, I had felt them and I had seen what he could do. I waited for him and whatever would happen to me this night. When the night was finally there John entered the room.
"Good evening, I hope you have had a good day and some rest because you will need it. Get up and follow me… Come on, hurry up!"
I quickly followed him and wondered what he would do to me. He led me through a series of halls and stairs until we ended up in a room with a large table. The table was of wood, strong thick wood and there were chains, knives, needles and all sorts of other things that could hurt a person badly. He blindfolded me and laid me on the table. My entire body was shaking. My wrists and ankles were held down to the table with the chains and I could hear him laugh, very softly, very secretly. John bared my arms, stomach and legs. There was no sound until I screamed when I felt a knife cutting in my right upper arm. I cried but my tears weren't seen because the blindfold absorbed them. He licked at my wound and healed it so he could make the same cut over and over again. He did that first on my arms, then my stomach and then my legs. In the beginning the pain was unbearable but the more he did it, the less pain I felt and the more I liked it. Except when he started at my stomach. Then I felt a fierce pain again and I screamed in complete agony when he cut away pieces of skin. John worked longer on my stomach. Cutting me, putting needles trough my flesh even in my arm I could still feel needles but those in my stomach were really hurting. Because I showed more pain there he kept on working on my stomach until I got used to the feeling and started to like it. At the end he let some wounds open instead of licking at them. John poured some sort of liquid on the wounds and it started burning and aching like crazy. I had to bite on my lower lip to keep myself from screaming it out. Never before in my life I had felt such a pain like on that moment but eventually it only made me stronger. When the night was almost fading he unchained me. I got off the table and collapsed. I felt terrible and so weak. My legs didn't want to carry my body and so John carried me to that room and laid me in bed. After a little time I fell asleep.
An entire day I slept. When I woke up John was already with me again. My entire body was aching from what had happened. While opening my eyes I noticed a little light close to my face, John was holding a candle in his hand. I could feel the soft heat against my skin.
"Finally awake, my little kitten? You've slept a lot so hopefully you'll be strong enough for the next test… Follow me please."
Hunger and weakness were going through my body but I knew that it was stupid to ask for anything if he didn't gave it. We walked through some halls that were familiar but then he took another turn and we ended up in a room with an old bath tub. I wondered what was going to happen.
"Do you like fire, hot water? That's your test for today. Get in it!"
With a puzzled look and without saying anything I got into the bath tub. The tub was empty but I feared that it wouldn't stay empty. Suddenly someone entered with two buckets. Steam circled above it and I knew it would get very hot very soon. A few more men came in the room with buckets in their hands. My first thought was that it was water but when the first bucket was emptied in the tub, I noticed it was oil. Hot oil... not boiling, luckily. I felt it burn trough my skin and I jumped up to get out of the tub. That wasn't allowed and John pushed me down in the tub until the tub was completely filled. I struggled to get out of it but he kept on pushing me down. Once my body was completely burned I hardly felt the pain except when I moved. I could still feel the heat of the oil going through my burned body though. The only thing that wasn't burned was my face and I was so happy for that. The happiness didn't lasted very long because John laid my head back and commanded me to stay like that. He took the candle he had earlier and held it on its side so the wax would fall on my face. I screamed and wanted to pull myself away but I couldn't because he had commanded me to stay in this position. I kept on saying to myself that I could do whatever I wanted and when the first drops fell on my face I pulled myself away. With a loud scream of pain because I moved my body so suddenly, I jumped out of the tub to fall on the floor with my face down. 'No more, no more …' I softly cried to the ground. He laughed and went through my hair with his hand while he came to sit next to me on the floor.
"Good … good my little kitten, very nice…"
'My name is Ellora, not little kitten' I uttered in a flare of agony and annoyance. It seemed to please him that I was getting stronger and bit back when I didn't wanted something to happen to me.
"Never do something against your own will. This wasn't just a test to see whether you could resist the pain of getting burned but also how long it would take before you resisted my commands. I'm glad you learn so fast. We are going to focus on this for a while."
I tried to get up and felt my body trembling. It wasn't easy but I tried and eventually I just fainted of the pain. Everything went black again. Whatever happened next I don't remember. Many days are just gone, one missing piece of the puzzle, not one moment from those days that followed can I remember. Until the first time I woke up again…
When I woke up all my wounds were gone but I still felt the pain deep inside. On the table in the room, my room from now on, was food and drinks for me. With a soft and careful pace I got up and went to the table to sit down and eat. After some hours John entered. That night and many following nights we practiced on ignoring the commands he gave me and quickly I managed to block my mind from him. He brought along others sometimes who were better than him and tested me to see how much I could keep them out of my mind.
Nights became weeks, weeks became months and months became a year, maybe two. He didn't torture me anymore like in the beginning. Every now and then John tested me on my pain level but in the way I wanted it. He gave me jobs to do so I would learn things. Sometimes really foolish jobs that only made me crazy and impatient like making wholes in a blanket and sewing them close again, night after night. Other times I was allowed to go out together with one of his ghouls, just to kill someone or bring home food for him. A human were he could feed on and play with, sometimes even with my assistance. I had to torture the prey, let it go and hunt it down in our building that I started to know by heart even though I didn't exactly knew where it was because every time we went outside I was blindfolded until we were far enough. When I had captured the food I had to kill and give it to him so he could drink the blood, sometimes he killed it himself but most of the time I had to do it for him. It was odd, John never went hunting. His ghouls brought him a prey or I brought one home. I never asked him why and he never told me because he hated it when someone asked too many questions especially when they were about him or his past.
Years passed, the war ended but that wasn't important anymore. One day he brought me the news that my family was safe but that they were sad for their lost daughter. I was officially dead. I wanted to go to them and let my family know I was still alive but that wasn't allowed. John had to fight me so I wouldn't ran away and he locked me up for days, enough time to let me calm down. He was very surprised I had gained so much strength during all this time I was with him and that had satisfied him while I fought for freedom. He yelled trough the locked door that it was good that I was officially dead but I didn't listened and went to bed to think.
Again some years passed and John and I became closer. In all those years that he was training me I had fallen in love with him. We had spent so much time together and I had noticed he wasn't the monster who I thought he was in the beginning. Very surprisingly he felt the same way but I was his student and so he didn't allowed his feelings to grow.
I had grown strong and had my own will, well actually more than one it was like I started to be more than one person. I could feel and act like different characters and I always felt so strongly that that personality was me but it could change quickly in another that gave me the same 'this is who I am' feeling even though it could be the complete opposite from the first one.
I never knew I had been able to survive everything because he had ghouled me. Around the age of 24, he embraced me.
Before my embrace he introduced me to a Tzimisce who was going to give me my final test of pain. He let me undress and chained me to the ceiling. My wrists were aching a bit but I didn't really felt or cared for it. My feet were hanging 15 or 20 inches above the ground. I waited for what would happen and I thought that it would be an easy test if I only had to hang around like this but soon enough I knew that it wouldn't be that easy. The Tzimisce entered and used his vicissitude on me. He fleshcrafted me in the most painful and horrid forms. An entire night I screamed and tried to get free. This pain was different than other pains, it was like it was coming from the inside and my bones were burning. When the day was coming the Tzimisce left me and let me hang there to return the next night and begin all over again. I could shut out the pain much better after a while and I didn't even screamed anymore.
Finally John appeared and he let me go when I was back in my normal form without any scar or other imperfection. He held me in his arms and carried me to my room.
"It is time."
He smiled
Those words really pleased me. After all those years of learning, getting tortured and being so weak I was finally going to get what I worked for, for so long. I was surprised that John carried me, I didn't felt extremely weak and I was sure I could walk properly. There was something different about him. He looked happy and pleased instead of neutral and bitter. Once in my room he laid me on the bed and peered into my eyes. I felt nervous and wondered what he was going to do because he had never told me how an embrace happened. Suddenly he kissed me and I was so startled but of course I was also very pleased and enjoyed it. When he cut the kiss off he looked at me with a smile. I listened to him with a blush on the cheeks.
"Ellora, it's finally time, I think you are ready. This doesn't just mean that you are going to be immortal but we can be together now as lovers, if you still feel that way about me? Now that you aren't going to be my ghoul anymore, my plaything, I can be true about my feelings. It's time to become my childe, my love… forever."
With a soft smile and a warm feeling inside I nodded and told him that I still felt the same way. Then he started to recite something, some sort of little poem.
"One Bite. Indeed, one taste. Deeply I shall drink. As your life slips away, and your eyes close in death, your life becomes mine. Now sleep, my child. Then arise and walk with me through Eternity"
He brushed his hand across my cheek and went down to my collar bone. Then he kissed my neck and within seconds I felt the Kiss that would lead me to my immortality. I had never been bitten again in all those years because he didn't want it. Why? I don't know but after the first time he had bitten me to prove he really was a vampire he hadn't done it again. His fangs bored trough my skin and I gasped while I closed my eyes. From far away memories of that first time came in my mind but this time it felt different, it felt better, more intense just because I knew what it would do with me. I held him close and moaned softly of joy, not willing that he would stop this incredible feeling. After some time that seemed an eternity of pleasure I felt myself slipping away. The very life was flowing out of me and into him. I wanted to resist but knew this would not mean the end for me but only the beginning. My mind went dark and blurred. I do not remember what happened next but I know he made me die and gave me his blood so I would become one of his. I think I might have heard him say something.
"Sleep now and rest, soon we will start your training about your new powers, your abilities."
John kissed me again and left me alone to die a deeper death than anyone can imagine. Next thing I know is that I woke up with such a weird hunger. A hunger I had never felt before! There was a human with me in my room and without thinking I jumped on her and killed her in an instant by invoking the Kiss and feeding of her in a way that was not fit for a Southern sweetheart like me... I'm not proud of it but my primal instinct and my Beast needed to be sedated and the only thing that could do that was the warm delicious vitae of a human. Similar things like that happened but I'm not sure anymore. It's a bit blurry like most intense painful or fearful moments from my past.
Like John had said we started with training after a few days. He was very surprised and pleased that I learned so quickly and that I was very determined to do things as perfect as possible. We trained hard and entire nights, sometimes just focusing on my strengths other times hunting preys on his domain that were brought by ghouls.
Years passed and I hardly left our home. He hated the world outside and he let his ghouls brings us our food. I hated to live like this because I wanted to see the rest of the world now I had an eternity to explore it. I didn't want to spend forever inside even though I loved John. I didn't understand why he had spent so much time in finding me in the world he hated and then train me like mad to become the best, well the best in his eyes, to keep me locked up. That didn't make any sense but then again maybe that was just because he was a Malkavian.
We had many arguments about it but never anything serious. Sometimes I escaped to explore the surroundings but I couldn't get really far and soon enough that became boring too. Staying inside really was annoying even though John taught me a lot. My strengths and my abilities grew each day a bit and John couldn't command me anymore. I was able to shut out most people easily so I could think with my own mind. I was better at it since I was embraced but when he or someone else put much strength behind it; I had trouble with keeping them out and resist his command. Especially when I was just awake or really hungry. It was not only the blood we shared that made me stay for that long with him but also the love I felt for him that we sometimes shared intensely.
After some years, I was around 49, I started to realise that this way of living was limiting my powers. Learning things is easy and it went very well but if you can't use them outside in the world, you can't really know whether or not you are good enough to protect yourself against others with the same or different abilities. I knew I had to put my feelings aside so I could break with him. Not my entire being liked him; there was a part of me that hated him for his cruel ways of killing and torturing humans and a part of me that extremely loved him especially when he was in a cruel mood. But there was also my neutral part that resembles the girl I used to be when I was human. She's the sanest part of me.
One day I decided to have a talk with him about how I felt but that didn't turn out how I hoped it would. I knew he would throw a tantrum but not that it would be that bad. He wanted to lock me up so I could come to my right sense but I managed to escape from him and hid in the world he hated. I started to travel around and met several vampires I really liked. Some Cammies, others Sabbats, Anarchs weren't always my cup of tea. I stayed wherever and with whoever I felt comfortable and pretended to belong to thme. Whenever my mood changed I went to another group but the problem was that I couldn't control the changes so it happened a lot. I moved from city to city and sometimes I lived with the Sabbat, other times with the Camarilla. For more than five years I travelled around and lived like that. Until one day I had a problem with a Cammie and a Sabbat.
They were two vampires I knew and they got into a fight. I bumped into them and at first they were pleased to see me because they thought I would help them. Well I would have helped them if the other one was unknown to me but now I couldn't because I considered both of them as friends. Because of that they both got mad at me; they said I had betrayed them. A true Sabbat never becomes friends with a weak Cammie and a true Cammie needs to clear the city from the evil Sabbat. I tried to explain but they wouldn't listen and eventually I frenzied and killed them both. That news spread fast and I was forced to begin my way back home, to John. Almost every vampire wanted to see me become dust and they all wanted to be honoured with giving me my Final Death. While I started to travel back I could hide sometimes with some Anarchs. They didn't care for whatever was going on. Even though I could have been killed easily I thought it was an amazing experience because I had learned things in reality now and not just from books or what John had told me.
During my travel with some Anarchs I met a Toreador with who I became very good friends. Perry was the most amazing vampire I had ever met except for John that is. He was very poetic and musical. I had no idea what his true feelings were for me and one day he just told me that he was in love with me. He didn't want me to return to John. He asked me to stay with him, he wanted to hide with me and even go abroad. It all surprised me very much and if I had known what I know now I would have stayed with him but at that moment I was still so in love with John. We had many fights about it. Perry didn't understand why I wanted to return to John. I liked Perry but I didn't want him. So a few days before I reached home I left the group of Anarchs, and Perry, and traveled the last part alone. What I didn't know at that moment was that Perry secretly followed me and that he lost track of me near my place.
Finally after weeks of travelling as fast as I could I reached my old home. I used my Obfuscate to make sure no one saw me enter. Once inside I didn't use it anymore so I would be spotted by one of the ghouls that were on the lookout for intruders. Of course within seconds someone tried to capture me but I was too quick for him and once he noticed that it was me the ghoul only nodded and brought me to John. I was led to my old room; apparently he had been in there all the time since we had parted. When I saw him I felt sorry for leaving him. He looked so sad and lonely and when his eyes, crimson from tears, saw me he gasped.
"It can't be? Is it really you Ellora? I've missed you so much, why did you left me like that?!"
His voice was sweet first but suddenly he screamed his last words angrily to me. He was very angry and for the first time since many years I was afraid of him. I apologized and told him I was wrong about leaving him but that I was getting crazy inside. I told him I had returned now, that I was in trouble and that I wouldn't leave him anymore now that I knew why he hated the world. But his anger was unstoppable.
"You only return now because you are in trouble!? You don't love me anymore, you don't care for me anymore, you have never thought about me in those five years. Well I'll make you love me again!"
I didn't know what was going on with him and looked terrified. He didn't let me explain and walked out of the room while mumbling something about me. His aura was so confusing there was love, anger, fear, disappointment … in it, all mixed feelings. While I was thinking about what had just happened I heard a key lock the door and it was the first time I didn't mind that I was locked up. Some hours after John had walked away he returned with an odd look on his face. I felt something wasn't quite right when he walked over to me. I stood up and smiled softly but then he used his obfuscate and before I could try and see him with my auspex he had grabbed me from behind and kissed my neck. For a very brief moment I thought everything would be fine again but then he whispered.
"I will make sure you never leave me like that again my little kitten. The only way to be sure is to take away your ability to move. I'm sorry it won't hurt, I love you."
And with those final words he pushed a wooden stake through my flesh into my heart. I could slowly feel the paralysis take over my body and then I fell to the floor. John held me and laid me on the bed. The last word I could utter was 'Why?' while I looked at him with eyes that represented my sorrow and pain. With that stake he had not only taken away my freedom from me but also the biggest part of my love for him. The entire night he stayed by my side, the only thing he did was going with his pale hand trough my hair.
When he left me to go and sleep he spoke to me for the first time. He only said goodbye. I wondered how long he was going to keep me like that. Being staked really isn't much fun. Night after night I was just lying there, staring at the ceiling. Not a muscle in my body could move. The only thing I had during my paralysis was my mind. Even though John was with me a lot, he wasn't much of a company. I wanted to be free; I wanted him to remove that stake out of my heart. It would probably leave splinters behind, emotional splinters. There was no way I could ever love him again like I had loved him before and probably he knew that because every time he came to me he apologised for what he had done. For him that was the only option to keep me from leaving him ever again.
More than 50 years I was in that room. Not one single time did he remove that stake. Meanwhile my mind had created voices to keep me busy. They were talking all the time but I never said a thing to them. One time they noticed I was listening and they started talking to me so I talked back. I started talking to them more and more, talking in thoughts with my own mind that had its own life. Life became less boring with those voices and I found out that they weren't really parts of me. Strangely they did fight a lot and I had to try to keep them peaceful. After some time I decided that they were my personal angel and demon, like a conscience that had come alive. There were more voices but those two are, I mean were the ones I talked to all the time. Sometimes the others made conversation with me but not as much as them. They called themselves Mary and Jane. They were lovely and sweet but at times very brutal with each other.
I had given up hope; I knew I would stay like this for many years maybe forever. It wasn't something I liked to know and I just wished that John would get his mind back but that didn't happen. Rescue came from a much unexpected corner. One night I was talking to my friends, as usual, and I heard noises that weren't to be heard normally in the hallways. It got me out of my cogitation with my friends. I tried not to listen but it was like some sort of fight was going on or something. I looked at the door but couldn't see very much from the corner of my eyes. I just lay there, staring at the ceiling and listened. Suddenly someone stormed through the door and yelled my name. I was shocked to hear that voice again after many years.
It was Perry. It filled me with happiness when I heard him but I feared that it could have been a dream. He walked up to me and looked at my body that was in Torpor. Perry looked at the stake and sighed. His hands caressed my cheek and went down to the wooden pin that had robbed me from my ability to move. With one swift move he pulled it out of me and threw the stake aside. He kneeled next to me and cut his wrist to give me some blood. Instantly I felt relieved from an unknown pressure that was on my body. Slowly I groaned and felt the unlife return to me. Softly I moved my left hand towards his cheek and smiled while I drank his blood. It felt like being reborn again. I couldn't drink too much of him of course and when he pulled his wrist back he licked away the blood that was on my lips. No words were said and it wasn't necessary because I knew I had made a mistake by leaving him. A ghoul entered my room and I immediately pounced towards it to make it mine. I was still so hungry and within minutes I had drained the unfortunate ghoul. It felt so liberating to have warm, fresh blood inside of me again. Like sweet nectar it rushed through my body. Perry just sat there smiling until we heard John scream and we both knew we had to get out of there. He took my hand and ran out of the room to find an exit. I told him where to go to and meanwhile he told me quickly how he had found me.
"I was so determined to find you Ellora, I love you so much. You have no idea what you did to me when you left me to return to this guy. I regret it that I haven't done more to stop you. It hurts me to see in what state you are now. Anyway when you left I followed you but I lost track of you after two or three days. In the beginning I gave up but I just couldn't cope with the thought of you being here with him and so after some years I started looking for you again. I couldn't find you and tried everything. Two years ago I only saw one last option and that was the Nosferatu. I contacted them and asked them to search for you or try to find any information about you. In return I had to do some errands for them, I can't tell you what though. Then suddenly a few days ago they told me that they had a good lead this time. It was about time, I almost gave up again after all those dead ends but this time it was good information. So I prepared myself for the worst: to come here and fight for you but I wasn't prepared on seeing this. If I had only known you were in this state I wouldn't have waited so long to contact the Nosferatu."
He had done so much to find me and I couldn't believe it. When I had left John, he had done nothing to find me but Perry did and it really was so sweet. Before I could even apologise or tell him what I felt John hit him and we both fell on the ground. My reactions were still too slow and by the time I got up and wanted to help the two men were already in combat. Of course Perry had the advantage of Celerity but I knew that John was a very good fighter. I noticed that John was very angry and Perry too and I realised that the fight wouldn't end soon so I made them stop by using my Dominate. Because of their anger they were an easy prey to use Dominate on but once they noticed it they told me to stay out of it. I turned around to run away and heard Perry ask me to stay but he didn't finished his sentence so I turned around again to face the scene. John and Perry had disappeared and I couldn't see any auras. I was completely confused. Where were they? I ran around the hallways to find them but there was no trace of them. Suddenly an aura came in sight and John appeared. I wondered what he had done with Perry.
"I had a little talk with your friend. He doesn't want you anymore, I explained what sort of bitch you are and he said I could have you… actually he doesn't remember your name anymore."
He laughed maniacally while shaking his head
"It's the second time you try to escape from me and so you need to be punished now. Don't forget that I'm the one who has given you this life and I'm the one who can take it away from you too. Where is your love for me?! Where?!..."
Suddenly I yelled at him. John couldn't even finish his tantrum.
"It disappeared the moment you have put that stake through my heart. I could have stayed with Perry but I didn't because I wanted to be with you and then you staked me! The moment you pushed that wood trough my heart my love for you vanished like a vampire into dust. Like a snap of a finger it was gone. You've taken it away yourself!"
I kept telling myself that he was telling lies, lies, it were all lies but deep down I knew they weren't. He had probably used Dominate on Perry to make sure he would leave me alone but why? Why hadn't he killed Perry? That was one big mystery. I sat against the wall with my arms around my knees and my head leaning on them while blood tears fell on my pants. My body was rocking back and forward like a little kid in a crib. While doing that Mary and Jane tried to help me.
• "Kill him, kill him damn it listen to me kill him."
• "I can't"
• "You have to; look what he has done to you and what he has done to Perry. Ow no wait scrap that you can't look anymore because he is GONE… out of your life forever because of him."
• "Don't yell at her, she's in shock!"
• "I yell when I want! You have nothing to say to me weak… "
• "Don't you dare to say it, don't you dare… "
• "Please, shut up the both of you"
• "We have to shut up?! We are trying to help you!"
• "You are not helping me when you two are fighting and…"
• "Ooh she's right, well to be honest I think for once Jane could be right"
• "I know you would…!! Huh? I am? Since when you do you agree with me?"
• "Well it's not fair what he has done; he is a real mean Meany. I'm afraid he might even kill her and I like it here. Have no idea where to go to."
• "Oh my, you are right I hadn't thought about that … I just thought it would be fun to kill him"
• "Please shut up, shut up, shut up …"
Those two just kept on talking and talking and talking until John came to me. For me it seemed like many, many minutes had passed but in truth it were mere seconds. John grabbed me by the arms and pulled me up.
"Now you are going to listen to me. Your little toy is gone and I'm not taking this anymore or you are going to change and stay with me forever or you are going to meet your final faith, your real death!"
When I heard him talk in that way my blood started to boil. Anger, pure anger, went through my entire body and I felt myself losing grip on my Beast. I was going to suppress the feeling but Mary and Jane were still chattering in my head and it made me lose complete control. The feeling of frenzy was coming closer and when he spit in my face I just pushed him back and hit him wherever I could. Everything happened in a blur and I found myself calming down again on top off John's dead body. I had been feeding from him, I had drained him completely and pieces of his neck and chest were missing. I had the remains of what was his heart in my hand and mouth and I adored the feeling it provoked in me. The hollow place in his chest made me laugh while I kept taking his flesh in my mouth. The tender tissue of his heart was a goodness I had never before tasted. He was gone now but would somehow also be a part of me. After some time I was only sitting on the ground and John's former body was now dust on my clothes.
It had all shocked me so much that I started to live like John. I had never expected to find myself living like him but I had to be careful. Perry had found me with the help of the Nosferatu that meant that the ones who wanted me death could easily found me now too. Sometimes I just wish they would find me and kill me because I can't kill myself, I want to life with the pain as a punishment of what I have done. It was my own fault that John had become so bitter and that Perry was gone so I have to live with this guilt feeling.
The rest of my years I have spent on my own, only going out when I had to feed and even then I sometimes let the ghouls do it for me. I lived years and years in solitude but I felt I needed company and so I started to collect my personal cattle. Most of them are people no one would miss and some of them are just unlucky people that passed by here and that I didn't like.
So I guess that was my entire story. Don't think there's much more that I need to tell you."
With a deep sighs she finishes her drink and looks at her audience that only existed out of one person listening but still she liked it when she could tell everything. A few brief minutes she doesn't say a thing. Ellora just sits and looks like she's waiting for something.
• "Geez, Ellora your story took a long time. Every time you tell it, it seems to get longer, why all the fuss about telling it right? You just want to abuse it so be short. How long is this going to take? I want to hurt it"
• "A story needs to be told perfectly no matter what you want to do with your audience. Patience, my love, pa …"
• "You aren't going to hurt it, you have to be friendly it's our life source"
• "Bah if you keep it suppressed it will also be our life source"
• "NO it's better in freedom, we aren't superior"
• "Yes we are"
• "No we aren't!"
• "Yes we are!"
• "NO we aren't!"
• "YES we a…"
• "Shut up! It's working, look"
Ellora notices her visitor is getting sleepy and she gets up to walk towards it. She takes the glass out of the hands and puts it on the table. Softly she laughs and she kneels down next to the chair of her guest so she can easily whisper in the ear.
"Maybe there was one thing I should have said but it slipped out of my mind. From this day on you'll be the new blood in my cattle. Trust me, my ghouls will take care of you and there are always the friends of John who will come and use you every once and a while. They are the only ones who visit me every now and then. They don't know that I was the one who has killed John. Well I needed some allies and they knew too much about this place so I couldn't afford to have them against me. But I trust you and I know you won't say a thing because you won't ever speak again. Never again unless I command you to. Do you understand me?
And now I must leave, I've been tipped it's not safe here for me anymore."
Some of her words have a hidden pressure when she used her Dominate on her guest. She knows it would work and that this person wouldn't say a word, ever again. She yells for some ghouls and they take the person with them. They carried her new piece of cattle because it was already asleep.
• "What are we leaving? When were you going to say that?"
• "Didn't I mention it? Oops I must have forgotten then."
• "Ooooh are we leaving? Where are we going?"
• "To someplace safe because someone has been talking about this place and for me it's not safe at the moment. I hope you guys haven't been talking?"
• "What how dare you to accuse us, you know we never leave you and when we leave it's only for a short while for some fresh air."
• "Oh my, that has really hurt me Ellora, it has."
• "Aw okay I'm sorry you two, it's the tension. I know you guys wouldn't do that."
• "Apology accepted"
• "Can we leave now?"
• "Yes we are leaving now."
Ellora just puts on her coat and checks if she has her two Desert Eagles. These modern clothing still felt uncomfortable to her. Tight jeans, tank tops, sweaters with or without zippers, slippers, hoodies… bah how could the youth wear it. She was used to long dresses and gowns, those beautiful clothing from her younger years but now it was all tight and weird. It was just something to get used of. With a soft pace she walks outside and looks into the dark sky. It was time to move ahead and bring herself in safety. The ghouls had their orders and she knew everything would be safe until she returns, if she returns. Ellora gave one last look on her home and uses her Obfuscate to disappear in the night.
Notes:
Ellora doesn't know that Perry and John have been best friends once. They promised never to kill each other. They did it with the help of a mage of the old days and this is why they will never break that promise. Even now when they aren't best friends anymore. But Perry has nothing to fear anymore now that John is dead.
Her biggest wish is to find Perry and to break through the boundaries that John has set in his mind so Perry would remember Ellora again. That way she wouldn't feel so guilty anymore about everything that had happened and that way she could also apologise for all the pain and trouble she had put him trough. And who knows maybe he would still love her and just maybe she could love him.
There is also a Childe. An unfortunate event from a few years ago. Their relationship is fickle at the best of times. They make an effort but it's pretty difficult at times. Agustin is a good boy and deep down Ellora likes him otherwise the Embrace would have never happened but as Malkavians it's hard to keep a sane head on your shoulders. Their ideals collide but when push comes to shove they are still a Sire and a Childe that will have each others back. Maybe not willingly or with the much needed love but it does happen in times of need. (More of this story will be played out IC and linked to this sheet.)